an early years, nature based, bilingual curriculum that gently adds structure and intention to each season
a gentle start to Spanish & nature study for children ages 2-8
Have you been searching for a way to create a bilingual learning routine with your young children?
Do you believe that stories and real life experiences are the best way for children to grow their language skills?
Do you speak Spanish at home and wish you had a resource to help you connect more with your family? 
Cuentos Conmigo is what you've been waiting for.
if you answered YES to these questions...
then this seasonal curriculum is for you! Cuentos Conmigo is a nature-based, bilingual program that gently adds structure and intention to each season. With a focus on story based learning, connection, and hands-on experiences, Cuentos Conmigo helps you create a Spanish learning environment that is flexible, supportive, and rich in opportunity for your family.
This is the perfect gentle start to nature study and Spanish learning for families that love getting outside, play and nurturing new traditions with each other!
Each seasonal course includes 6 nature based lessons that bring original bilingual stories, songs, poems, crafts, recipes, and nature study together with Spanish learning.   
Cuentos conmigo consists of five main elements
Meet Mateo, Marisol and their sweet pup Churro. Follow along through the seasons as they embark on adventures exploring the natural world, supporting their community, and nurturing family traditions. By creating stories that gradually weave in more and more Spanish, children are able to decode new words and phrases using context clues.
Start out reading the bilingual version in English and Spanish, and work your way up to the full Spanish version each lesson! You'll also have QR codes to listen to each story read completely in Spanish by a native speaker. 
Each story also includes illustrated backgrounds and puppets to help you bring your cuentos to life!
This bilingual curriculum encourages your little one to use their minds and their hearts as they engage in hands-on learning experiences.  With crafts, nature study, movement games, and more – your child will feel supported and inspired as they learn Spanish. 
One of the greatest ways to create a routine with your young children, is to involve food! A large part of this course revolves around time in the kitchen, trying new recipes and making yummy treats to enjoy while you read your stories and work with your hands. Every lesson provides multiple theme-based recipes to try with your little ones. 
Engage more with the natural world with gentle nature prompts and lessons. By observing the world more closely, you can introduce key elements of nature study to your young children, like wonder, patience, and observation. 
Learning songs and memorizing short verses with young children is an incredibly powerful language learning tool. Each lesson will provide you with nature based canciones y poemas to learn with your little ones. You will have also handy QR codes with native Spanish speaker audio guides to help you learn while you listen.
Learning language through context clues and real life experiences
Children are masters at decoding language. Cuentos Conmigo was created to help nurture a home environment where children naturally learn Spanish through context clues and real life experiences, while exploring the natural world around them. 
By putting hands-on learning at the forefront of this curriculum, we got rid of the boring worksheets and found a new way for families to practice Spanish at home. 
Instead of direct instruction that is easily forgotten, your children will learn by listening, and doing. Their language learning will be directly tied to core memories of connection with their family. Does it get any better than that? 
THIS COURSE IS FOR YOU IF:
THIS COURSE IS NOT FOR YOU IF:
YOU WANT 1-ON-1 PRIVATE SCREEN-BASED LESSONS. 
YOU DON'T LIKE COOKING WITH YOUR CHILDREN, SPENDING TIME OUTSIDE, OR READING STORIES. 
YOU DON'T BELIEVE THAT CHILDREN LEARN THROUGH PLAY. 
YOU AREN'T WILLING TO GUIDE YOUR CHILDREN WITH HAND-ON PROJECTS OR CRAFTS. 
YOU DON'T BELIEVE THAT CHILDREN CAN LEARN MORE THAN ONE LANGUAGE. 
Take the guesswork out of language learning in the early years!
Each Season of Cuentos Conmigo includes:
Cuentos Conmigo helps families establish a seasonal learning rhythm with their families. Each seasonal curriculum will have 6 thematic lessons connected to the natural world. 
seasonal lessons include:
When you purchase each course you also get...
a beginning nature journal for kids exclusive to this course!
Ease into nature journaling with your young children! This bilingual nature journal is a great way to begin the journey of nature journaling with your family.
Courses will be listed as they're available
Cuentos Conmigo autumn, otoño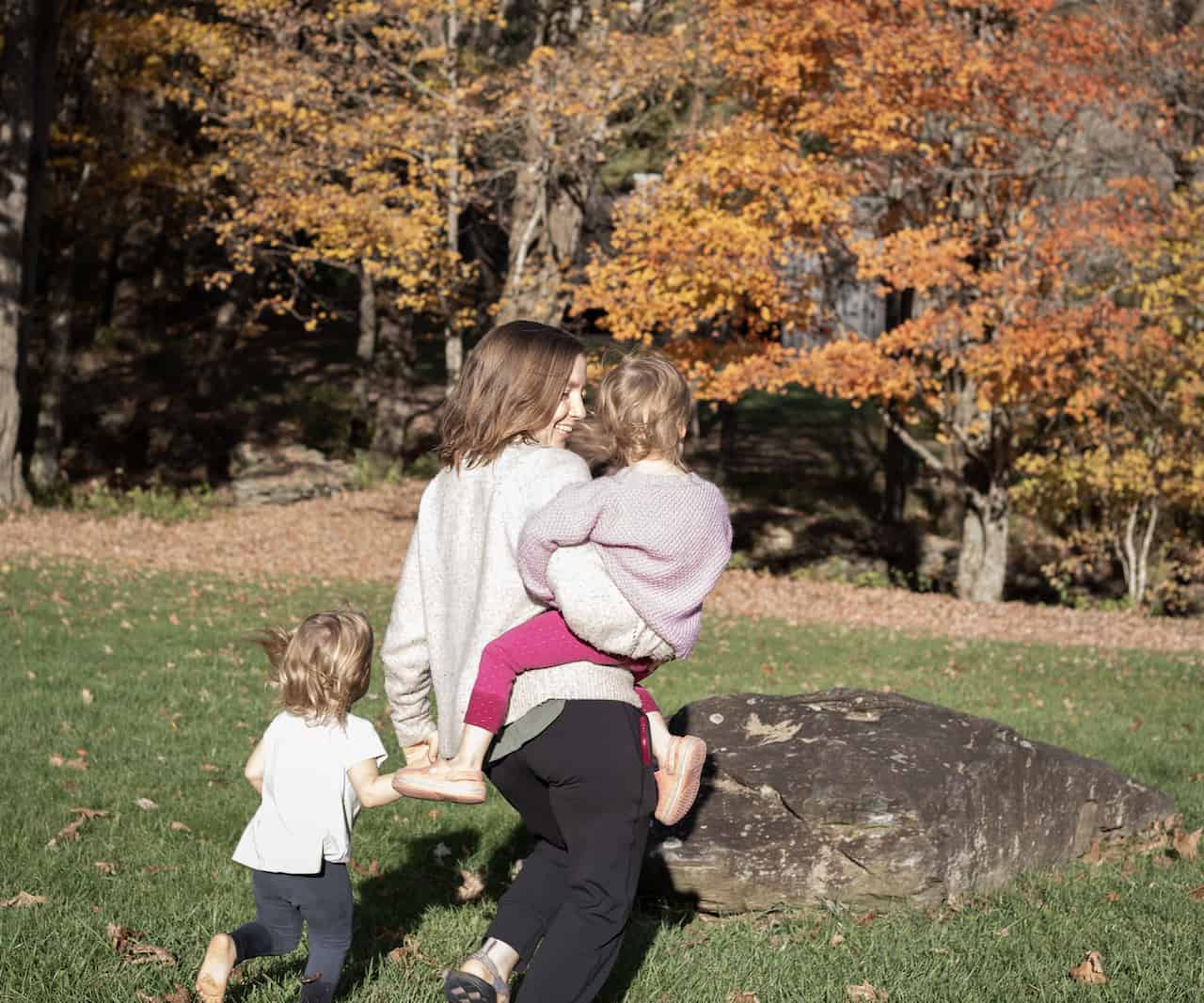 I'm Naomi Noyes. A Spanish teacher, twin mamá, forest school educator, and lover of all things nature. Seeing families teach their kids Spanish at home fires me up. I believe in outside-the-box language education that gets children off a screen and into the natural world.
So, I got to work applying my near-decade's-worth of Spanish teaching experience, and created engaging online Spanish courses for families who want a hands-on curriculum to help them take their language learning outside.