Ready to take your Spanish learning outside?​
Spanish in the Wild is the only nature based Spanish homeschool curriculum of its kind.
Spanish nature study for families and their children ages 5+ (even teens!)
As children get older, our approach to teaching language often shifts from immersion and play, to grammar focused and product driven curriculum.
We forget to let kids explore and experience the language with hands-on activities, and confine them to desks with worksheets and verb charts. 
And i'm here to change that.
Your child doesn't fit into one box, your Spanish courses shouldn't either.
A Spanish course that is as dynamic as your child! Spanish in the Wild is your chance to reclaim the wonder of language learning at home. With lessons that weave science, art, movement and literature together, this course creates a dynamic language learning experience for everyone to enjoy.
THIS COURSE IS FOR YOU IF:
Adventure awaits, let's bring your Spanish learning outside!
This course is not for you if...
YOU WANT 1-ON-1 PRIVATE SCREEN-BASED LESSONS. 
YOU DON'T BELIEVE THAT OLDER CHILDREN CAN LEARN SPANISH. 
YOU WANT A COURSE THAT FOCUSES ON TEACHING SPANISH GRAMMAR. 
YOU AREN'T WILLING TO GUIDE YOUR CHILDREN WITH HANDS-ON PROJECTS OR CRAFTS.
YOU DON'T BELIEVE THAT CHILDREN CAN LEARN MORE THAN ONE LANGUAGE. 
YOU DON'T LIKE NATURE.
Learn Spanish side by side with your kiddos, no screen time required.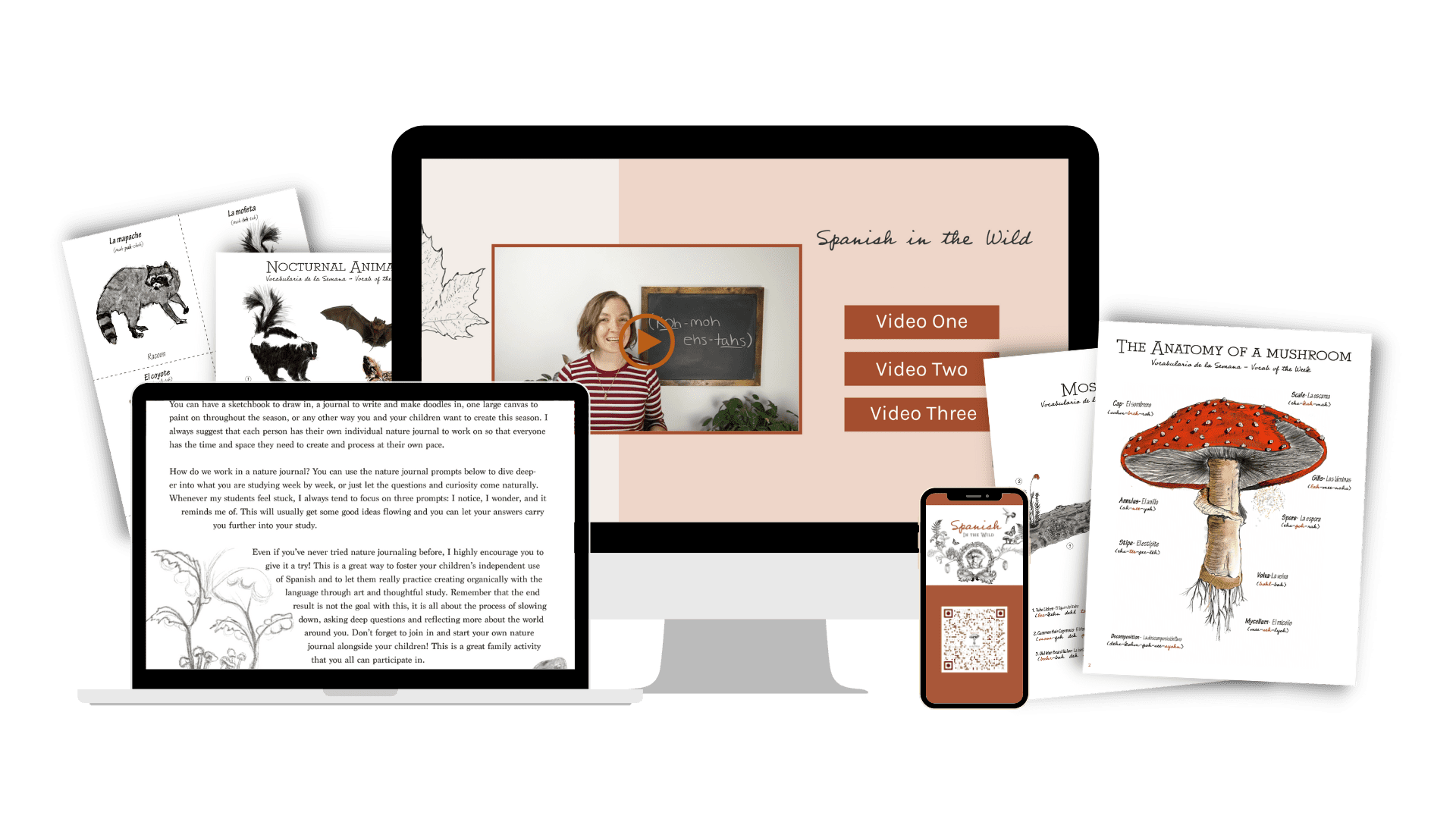 Each Seasonal Course of Spanish in the Wild includes:
Our Spanish in the Wild summer course is a mini-version to help keep language learning alive all summer!
let's dive into your bonuses
WHEN YOU PURCHASE THIS COURSE, YOU ALSO GET ACCESS TO THESE EXCITING BONUS FEATURES:
Spanish nature journal prompts for the whole season
The perfect way to bring Spanish into your nature journaling. These prompts will help you ask deep questions about the world around you as you practice your Spanish. 
Weekly lesson planning PDF
Who doesn't love a beautiful planner?! These weekly lesson guides will help you organize your learning and take notes to come back to at the end of each season. 
Gorgeous seasonal calendar
You can have your lessons all planned out with this gorgeous seasonal calendar. 
Instructional Spanish Videos
These videos are perfect for anyone in your family learning Spanish at home! They will help with pronunciation and getting started with grammar, so you can feel confident as you practice your Spanish. 
An invaluable review lesson in each seasonal course with games, Spanish jokes, and tips for keeping your motivation when learning at home. You even get an exclusive nature drawing lesson from our illustrator!
BUNDLE & SAVE - BEST VALUE - SAVE $70
Bundle Autumn, Winter, Spring & Summer for a whole year of Spanish nature study. 
Take advantage of this limited time offer to save even more! 
Purchase Each Season Individually



start the summer mini-course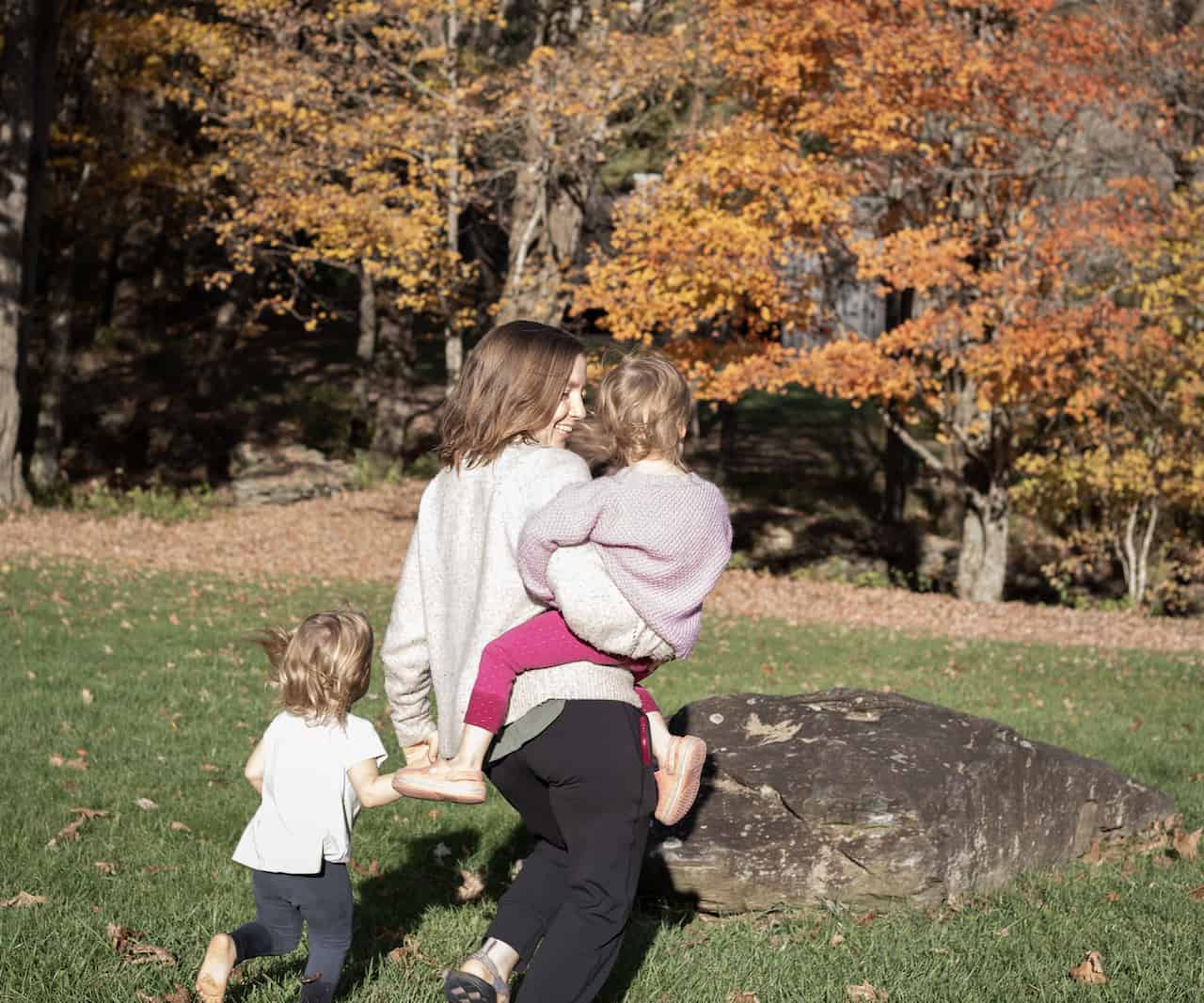 I'm Naomi Noyes. A Spanish teacher, twin mamá, forest school educator, and lover of all things nature. Seeing families teach their kids Spanish at home fires me up. I believe in outside-the-box language education that gets children off a screen and into the natural world. 
So, I got to work applying my near-decade's-worth of Spanish teaching experience, and created engaging online Spanish courses for families who want a hands-on curriculum to help them take their language learning outside. 
Matthew Graham, Hawk & Hand, is a Connecticut-based artist. He went to school for fine arts with a focus in illustration. Growing up he found wildlife was always his biggest source of inspiration, especially birds. Specifically, raptors. "The colors, patterns and grace these creatures possess are nothing short of a gifts to humans".Matthew is a father of two beautiful boys who keep him on his toes at all times, but its his families adventures in nature that breathe life into his work. His main mediums are graphite and ink,  he then transfers the hand drawn pieces to a digital format for color. 
NATURE IS CALLING, IT'S TIME TO TAKE YOUR SPANISH INTO THE WILD
The benefits of language learning are endless: greater cognitive functioning, improved problem solving skills, better attention span, a growing confidence in one's own abilities…the list goes on and on. Yet, even in the face of all of these measured, scientific studies on the benefits of bilingualism, there is a greater payoff even still when learning Spanish at home, and that is connection. Language learning is all about connecting more to ourselves, to each other, and to the world around us. Spanish in the Wild is so much more than a course or curriculum, it is a roadmap to connecting more as a family with nature at the heart of all we do. 
This isn't just about learning Spanish or studying nature at home, it is about reclaiming childhood and wonder for our children. It is about slowing down together, finding magic in ordinary moments, and cultivating a love of learning to last a lifetime. 
"Finally a way to teach my older children Spanish in a fun and engaging way! My kids have loved this bilingual nature study, and they can't get enough of the fun science and art projects. We can't wait to work our way through this year after year."
We LOVE Spanish in the Wild in our home. It works perfectly with the different learning styles in our family and gives everyone a chance to shine. My kids especially love seeing the new artwork with each lesson and we decorate our whole learning space with the posters. This is our favorite way to learn and practice Spanish at home.
My kids were fully bilingual and speaking mainly in Spanish until they started school. Then they almost completely lost their Spanish and didn't want to speak it with me. The moment I brought Spanish in the Wild into our home, all of that changed. Now it is our fun time together while we explore outside, and my heart is so happy to hear my kids speaking Spanish with me again. This was just what we needed to jumpstart our learning at home to help make it more intentional.
Kiddos too young for Spanish in the Wild? Check out Con mi Familia!
These play-based and nature inspired Spanish courses are designed for families who want to grow their language skills, while creating a bilingual learning environment for their children right at home. This is the perfect Spanish preschool curriculum for families that love nature, play and connecting with each other!